Basement Waterproofing in Philadelphia: Protecting Your Wine Collection
Some people are what a short story in Archie Comics call the "nutty collectors" – people who make it a mission to collect every object of a certain kind and stash them somewhere. Many wine collectors do fall into this category and, as eHow contributor David Kingsbury explains, stocking them in your basement poses a challenge: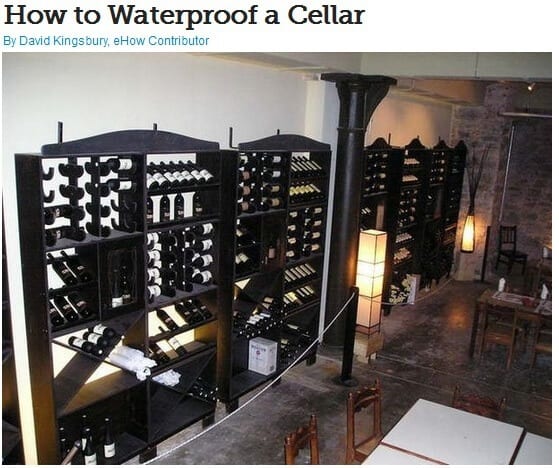 "Whether you've filled your cellar with expensive wine or a mountain of junk, you probably want to keep your possessions dry. Unfortunately, aging buildings sometimes settle, resulting in cracked foundations. When this happens, excess water finds its way inside the structure, flooding it."
Investing in wine is a serious business among New Yorkers. The Big Apple does have a number of fine wine storage companies, and classy restaurants have their own stocks of quality wines for the discerning connoisseur. If you're in the habit of collecting reserved wine and branded liquor for private enjoyment, and house them in your basement, you need the services of New York basement waterproofing specialists to ensure that the location is conducive for tipple storage. These are some of the things they may recommend:
Sump Pump
Outline your plans for your basement and let a basement waterproofing expert such as Vulcan Waterproofing conduct an ocular inspection. If flooding had occurred in the basement before, take note of the lowest point in the place. The waterproofing service will likely dig that part out and install a sump pump linked to an outside connection.
Ideal RH
Humidity will play a role in protecting the wine you've so painstakingly gathered. Some authorities in wine say that the basement's relative humidity (RH) should be around 70%, to preserve the label and the content of the bottles. The temperature must be kept at around 50 degrees F (10 degrees C), and the bottles tilted so the wine touches the cork stoppers. Turn off all the lights when you leave.
Consult the contractor on installing a basement ventilation and dehumidifying system to combat moisture, which will affect the integrity of the wooden wine racks and barrels.
Waterproofing Membranes
Excavating the area around the basement will be critical as you need a waterproofing membrane to hold the walls against seepage. For the interior, a second layer of membrane may be installed, with adequate supports to lock them in, such as timber battening. The floor can also benefit from stone tiles that are resistant to mold and mildew.
Amassing your own collection of wines from around the world is a great hobby. Appreciating their unique flavor, preferably with friends, is also a fun way to pass the time. Putting them in a safe storage place reinforced by experts at basement waterproofing in NY will ensure their freshness.
(Source: How to Waterproof a Cellar, eHow)