Basement Waterproofing in Philadelphia Will Help Avoid Headaches in Spring
The winter that the East Coast experienced is one of the most intense winters in recent memory, but a TheTimesHerald.com article published March 1, 2014 warns households of another emerging threat when spring finally arrives. Mitchell Kuffa writes:
"Now, we all know its been a cold winter, but there is one factor that no one has mentioned. I remember when I was a kid in the '50s and we had snow in similar quantities as today, but there was one big difference. There were intermittent days when the snow melted. This year, we had 6 inches of snow, then 2 inches of snow and then 7 inches of snow with no meltdown days in between.

Spring is around the corner and we will get a big melt. Where is this snow and ice going to go? Well, we have all these holes dug all over our neighborhood, called basements and crawl spaces. The ground can take only so much absorption. The balance will pond, flood, evaporate or whatever, but the big question becomes, is it going to get into my crawl space and basement?"
Kuffa is writing in reference to Michigan, where the state, alongside Chicago and Minnesota, experienced the onslaught of the cold. This fact, however, does not exclude people from the Big Apple to call for basement waterproofing in Philadelphia. This service will show its significance when the snow finally begins to melt.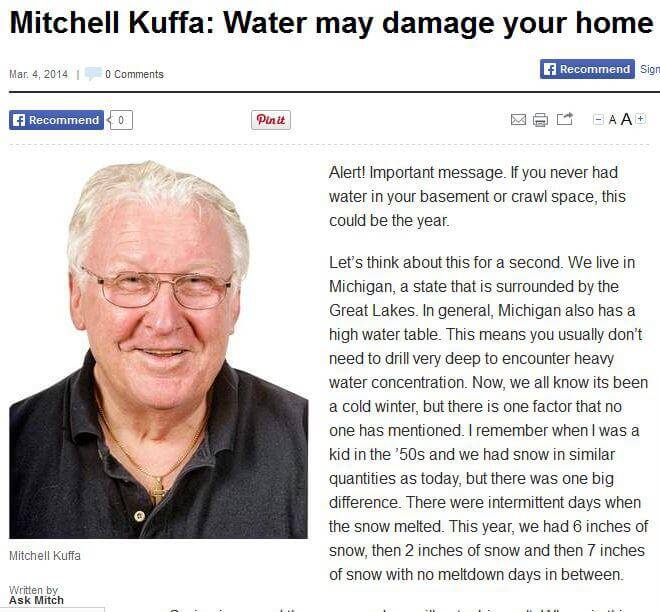 The city of New York experienced a cold winter despite differences in climate compared to Detroit or Chicago. The International Business Times detailed that the total amount of snowfall in the city is among the highest recorded in the city's history. One can definitely expect a flood when the snow finally melts.
When floods happen, houses and people living in them will be put at risk. Mold and mildew growth will have a negative impact on the occupant's health. Rust and rotting wood will have negative impacts on the integrity of the structure. Water damage will make the house a dangerous place to live in.
This is why PA basement waterproofing services must be called in order to prevent such a catastrophe from happening. Services like Vulcan Waterproofing will not only seal a house's basement in order to avoid water damage, it can also help the house become more energy efficient and protect the items that are stored in the basement.
Homeowners should not wait for the snow to melt before they react. They should take a preventive approach and call a trusted contractor to secure their basements.
(Source: Mitchell Kuffa: Water may damage your home, thetimesherald.com, March 1, 2014)