Flooding Highlights Importance of Basement Waterproofing in Philadelphia
Water is essential for all living things, yet everyone is familiar with the saying that too much of a good thing can be bad. According to a report from NJ.com, a flood watch was issued in several areas of New Jersey and Pennsylvania:
"Icy leftovers from this winter's barrage of storms are expected to thaw as temperatures creep past 50 degrees tomorrow, prompting the National Weather Service to issue a flood watch for areas of New Jersey and Pennsylvania.

The watch is in effect beginning Friday at 10 a.m. and ending at 10 p.m. in anticipation of a high of 53 degrees, according to the weather service. The combination of warm temperatures, a possible midday thunderstorm and wind could result in increased snow melting.

Runoff may cause streams and rivers to approach or exceed flood stage, according to the weather service. The Delaware River reaches a flood stage at 20 feet."
It is no secret that water flows downhill; as such, your home's basement is a prime location for water to seep into when it floods. It doesn't help that flooding is very common in New Jersey; according to research, New Jersey had the most number of flood insurance claims in 2012. That in mind, it is very important for homeowners to get basement waterproofing in Philadelphia.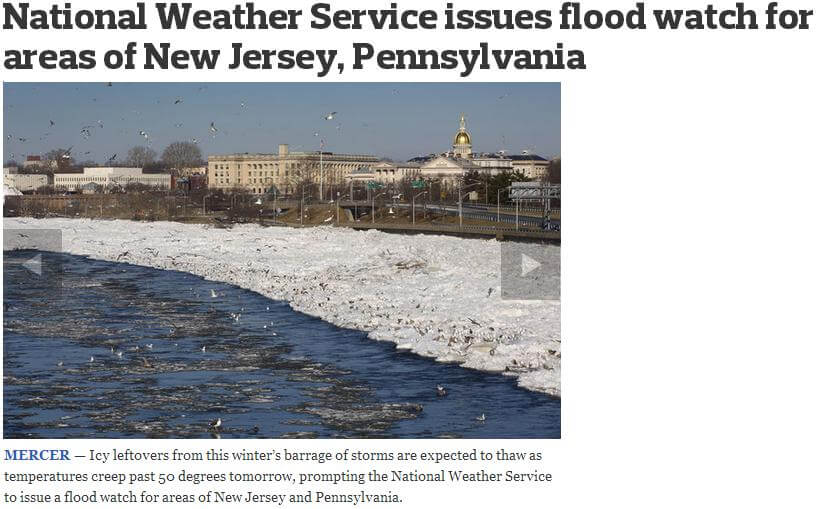 There are many different ways to keep water from damaging your basement. If you are concerned that your basement is prone to water damage, you can try doing the following to decrease the chances of water damaging your home:
Dehumidifier
If you notice condensation forming around your basement walls, you may be experiencing a humidity problem. This can easily be remedied by having a reputable PA basement waterproofing company install a dehumidifier or an efficient basement ventilation system. Doing so can prevent molds from growing in your basement, even if water somehow manages to get in.
Redirect Down Spouts
Ideally, your down spouts should point away from the foundation of your home to avoid eroding the foundation whenever it rains. Eroded concrete in the area easily allows water exiting the downspout or floods to invade your basement.
Waterproofing should never be tackled as a weekend DIY project. One miscalculation can easily leave your home at a higher risk of water damage than it previously was. That said, do not hesitate to contact a trusted basement waterproofing service like Vulcan Waterproofing to help you protect your basement from the elements.
(Source: National Weather Service issues flood watch for areas of New Jersey, Pennsylvania; NJ.com; February 20, 2014)